Re-Cycle
by Andy on Dec.25, 2011, under AJ's Projects, Re-Cycle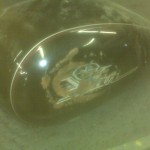 Well I guess I got so engrossed in the long drawn out process of getting the title as it was last titled in the state of Ohio, that I didn't update the progress.
Not only did the title come through, but I've put 6000 miles on the bike since getting it back on the road. The following will be some of the process of the mechanical issues that were addressed.
First came the fuel tank that was dented in due to the dump it took.
The tank was cleaned out and pressurized with about 15psi and then heated the affected area with a torch and slowly the dent came out and while not 100%, it was enough to get the capacity of the tank back to where it should have been.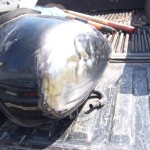 Buttered a bit of Bondo to smooth things out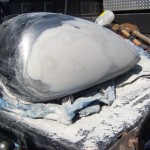 Then painted everything. . .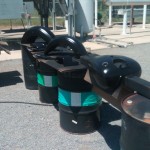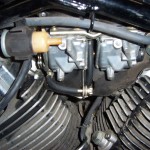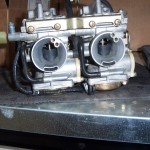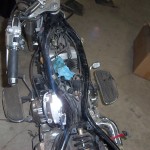 The carburetor was completely dismantled and cleaned as everything in it was seized up. To get a better sound to the engine as I like to hear the engine of the bike while driving down the road. . . both mufflers were gutted. This required the rest of the equation to be changed as well and  the intake had to be modified eliminating the stock air box.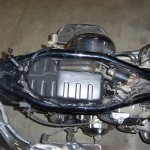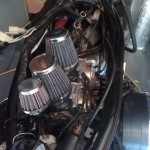 Along with that the carbs needed to be re-jetted resulting in higher air volume along with fuel going through the whole engine. Then came synchronizing the carbs with a home-built unit that I don't have a pic of, but it was simple and effective. The old saddle bags weren't worth trying to save so along with new saddle bags, I got new mirrors with the front turn signals built-in and new rear turn signals and license plate holder.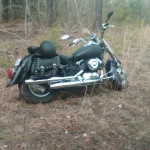 Took a nice three day ride this fall (2011) with a local group. . .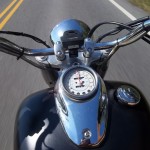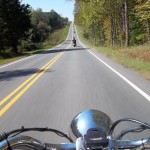 As a result of this ride I install a windshield and throttle lock. . .
So there you have it with a bike that had been tossed and forgotten, it's back on the road with wind flowing through the engine and doing what it's supposed to do. The only issue is that these bikes seem to backfire every time you back off the throttle and with the exhaust opened up, you can hear it now. So pop, pop, pop, and with that I almost don't need a break light. . . after spending way too much time trying to adjust it out, the consensus is from other owners is that's just the way they are.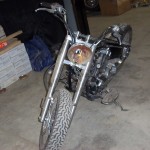 Still the "Mad Max" bike, but ran well again on the 2012 fall run.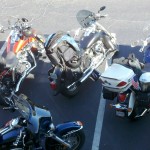 It might not be pretty like many of the other bikes out there, but for the money, it looks great to me. There is also satisfaction knowing that a bike that had not been ridden or even started in five years was back out turning its tires in the wind. It also makes you wonder if you got everything tightened up right when you're cruising at 80mph, but not any more having doubled the miles on it since its reinbikenation . . .
Leave a Comment
more...
by Andy on Apr.18, 2010, under Re-Cycle
I've had several friends try to get me back on a bike and as I've been going through "plane" withdrawal, I told them that I wouldn't get a bike until I got a plane first. With that I guess that they felt the only way to get me back on a bike is if the cost was minimal.
One of them rebuilds wrecked bikes purchased from insurance companies and had someone he knew drop one off a couple of years ago that had been spilled and need a little attention. Well since then the owner has been at large and unreachable. He now had an abandoned vehicle on his hands. Now I have an abandoned vehicle on my hands.
I've started the process with the DMV which lead me to the Ohio Bureau of Motor Vehicles and now I'm waiting on my second response from them to my request for the last known address for the current title holder.
Well, here is what it looks like now…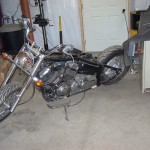 and here is what it's supposed to look like…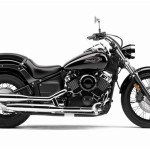 1 Comment
more...