by Andy on Apr.18, 2010, under Re-Cycle
I've had several friends try to get me back on a bike and as I've been going through "plane" withdrawal, I told them that I wouldn't get a bike until I got a plane first. With that I guess that they felt the only way to get me back on a bike is if the cost was minimal.
One of them rebuilds wrecked bikes purchased from insurance companies and had someone he knew drop one off a couple of years ago that had been spilled and need a little attention. Well since then the owner has been at large and unreachable. He now had an abandoned vehicle on his hands. Now I have an abandoned vehicle on my hands.
I've started the process with the DMV which lead me to the Ohio Bureau of Motor Vehicles and now I'm waiting on my second response from them to my request for the last known address for the current title holder.
Well, here is what it looks like now…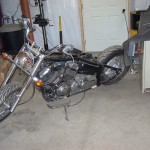 and here is what it's supposed to look like…